Garbiñe Muguruza woke with a start at 5am on Sunday, her first thought being the Wimbledon title won the previous day. "I couldn't sleep, I just felt it more, I was like 'wow I actually did it'," she says, breathlessly, "On the day I was in the action and tired and hungry so didn't appreciate it.
"The best thing is being part of history and achieving something you've dreamed of. I don't know a lot of people who achieve what they have really dreamed of as a little girl."
Celebrations the previous evening were understated, a glass of white wine and tapas with her team at a Spanish restaurant in central London. Then it was back to business, a round of TV interviews, mainly with Spanish language channels at a mansion house in Wimbledon village, rented by her management company, IMG, for the duration of the tournament. As chefs cook chicken and salad in the gleaming white kitchen Muguruza holds court in the garden, reflecting on the moment of victory.
The final point was underwhelming, a Hawk-Eye challenge confirming Venus Williams had hit a forehand long. Muguruza held her head in her hands before sinking to her knees. "I thought: 'Why did it have to end up like this, with a challenge? Can't I make it with just a winner, a beautiful shot like Roger Federer.' But it was just an explosion of emotion."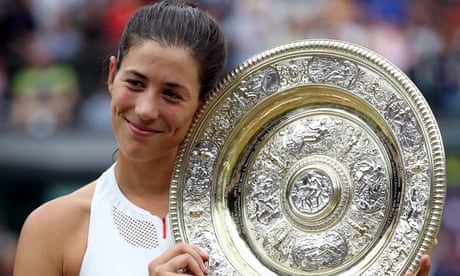 Garbiñe Muguruza banishes nerves to write her name in Wimbledon gold
The first person she called after getting off court was her regular coach, Sam Sumyk, who had remained at home in Los Angeles during the tournament with his pregnant wife, Meilen Tu. "It was a bittersweet moment because that was for the entire team and every coach should be there for that moment because the whole team worked so hard," she says. "But at least I called him straight away so he got to experience my tears, the adrenaline and drama in some way. His baby is going to arrive super-soon so hopefully now I can go over to LA and meet the baby and show him the trophy."
In Sumyk's absence Spain's Fed Cup captain, Conchita Martínez, the last Spanish woman – before this weekend – to win Wimbledon in 1994, stepped in. She has been a constant presence in Muguruza's box and in practice.
However, over the past fortnight the 23-year-old has had to abide by some unusual superstitions Martínez has, including always practising on Court 11 at the All England club. She laughs as she recounts some of the odd habits. "I had to do the same thing every day otherwise there was drama in the team," she says. "It had to be the same bag, same balls, and she'd say: 'You've got to step on this paving stone.' I had to be first through the door and she had to be second. She was like: 'We're not changing anything, same court, same hour.' I don't have superstitions because I think sometimes they work against you, because if something happens to disturb them you feel nervous. I have routines but not superstitions."
Her powerful, aggressive game and ability to play her best tennis on the biggest stage means Muguruza has long been talked about as the most obvious successor to Serena Williams. When she was beaten by Williams in the 2015 Wimbledon final the American said to her at the net: "Don't worry, you'll have this trophy soon."
"It meant a lot because she has won 22 and if she says something like that I don't think she's saying it just to be nice," says Muguruza, who was speaking at an event to promote the adidas by Stella McCartney clothing line she wears on court. "I think she really meant it but maybe not this year against her sister. But I remember her words.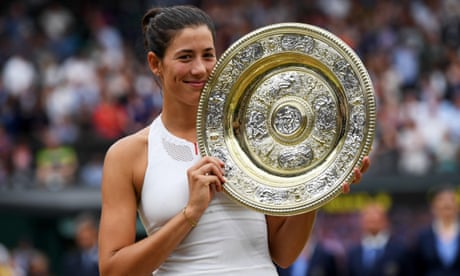 Garbiñe Muguruza crowned Wimbledon champion after beating Venus Williams
"A lot of people ask me if I'm going to be the next big champion and I'm on the right path. I just want to keep winning big trophies and make my own history. I don't want to be the next Serena Williams, I want to be the only Garbiñe Muguruza and hopefully that means a lot more grand slams. Everybody has their own story, I don't want to be a lookalike."
Muguruza has previously spoken of the cattiness of the women's tour, contrasting it to the chumminess of the men who often have dinner together. Maria Sharapova said of the women's locker room that it was her "least favourite place in the world" and she was not interested in making friends with other players. Muguruza tends to agree.
"It's hard to have friends when five minutes after I've got to play them on court," she says. "Everyone's at different places in the world, from different countries with different teams. That's not easy to handle some times. It's part of the mindset of being a champion. It's an individual sport, I think that says it all."
Winning Wimbledon, her second grand slam title, means a £2.2m cash injection for Muguruza. She says she is sensible about investing her money in the knowledge that a tennis career could be cut short at any moment. But the self‑confessed fashion addict admits a shopping spree is on the horizon. "I see a lot of criticism sometimes when a sportswoman wants to feel pretty on the court. I want to feel pretty out there, I'm going to feel more comfortable and confident if I have a beautiful dress on. It doesn't go against being an athlete."
Strong-willed off the court and on it, further success will surely follow for Spain's multiple grand slam champion.