Roger Federer cemented his reputation as the greatest player to grace his sport by lifting a record eighth Wimbledon title with a one-sided victory over Marin Cilic, whose thin hopes of an upset were popped by a blister that troubled his movement and tormented his mind.
It was an afternoon of sustained emotions but scant drama. Federer, a great Wimbledon favourite since winning his first title in 2003, raced through the match in one hour and 41 minutes and dropped only eight games in a 6-3, 6-1, 6-4 procession.
Roger Federer already planning Wimbledon return after record eighth title
This victory meant the Swiss master, who turns 36 next month, surpassed the big-serving American "Pistol" Pete Sampras and the Victorian-era great, William Renshaw, who claimed seven. Staggeringly, Federer also became the first man to win Wimbledon without dropping a set since Bjorn Borg in 1976.
"It is very special to win eight titles," said Federer. "Wimbledon was always my favourite tournament, and will always be my favourite tournament. My heroes walked the grounds here. Because of them I think I became a better player, too. And No8 obviously means a lot to me because to be part of Wimbledon history is truly amazing."
What made this victory more remarkable still was that the era when Federer's racket played like a Stradivarius, and the American writer David Foster Wallace compared watching him to a religious experience, had appeared over for good last year. He was approaching his 35th birthday. He had not won a Grand Slam since 2012. And, worse still, he was struggling with a knee injury – sustained whilst running a bath for his twin daughters – which forced him out of the game for five months.
But the thousands walking along Church Road to the All England Club for Sunday's final understood that the Federer of 2017 was a player miraculously reborn, having won the Australian Open in January and 32 of his 34 matches this year. And so it proved as he dismissed a hobbling Cilic with minimal fuss.
It wasn't supposed to be that easy given the 6ft 6in Cilic was in the form of his life. Few knew, however, that he had a huge blister on his foot after his semi-final against Sam Querrey. It meant that every time he made a sudden movement it felt like an electric shock up his leg. Understandably it screwed up his mind – and his groundstrokes. "I tried to block my thoughts," said the Croatian. "I tried to block the pain. But even in the warm-up I was testing my movement going side to side and I was too slow."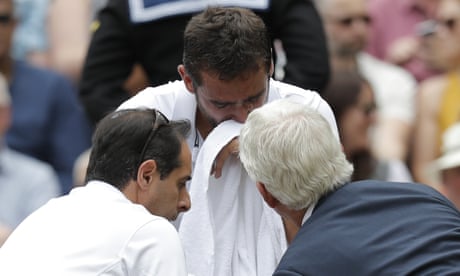 Marin Cilic's tears are the memorable image of one-sided Wimbledon final
That was evident in his play, with Cilic clanking 23 unforced errors compared to only 16 winners.
Federer did not initially sense anything was wrong with the giant across the net. Even though it was his 11th Wimbledon final it could have been the first given his early nerves. He served two fidgety double faults in the opening two games and also faced breakpoint at 2-2.
The 15,000 inside Centre Court held their breath. Yet Federer survived and in the next game broke his opponent before running away with the first set.
Cilic's movement was increasingly tortured, and at 3-0 down in the second set he called for the trainer, who bandaged him up. It did little good. In a blur he was two sets down and staring into the abyss.
As the third set began, and the clouds were finally burnt off by the sun, the Croatian tried to mix things up by serving and volleying. But such was the whip and dip in Federer's backhand return he was having to play his volleys off his bootlaces.
At this point there was only going to be one winner. By the time Cilic found himself breakpoint down at 3-3 the strained cries of 'C'mon Marin!" were growing in number and intensity. Most of the crowd probably still wanted Federer to win but they also wanted more tennis. He was in no mood to oblige. A decisive break soon arrived, along with this most precious of victories.
Afterwards he repeatedly waved at his four children, three of whom were sat on the balcony above the NBC TV studio transfixed by the applause for their father. They were surely not the only ones. Thousands of teenagers watching yesterday would not have been born in 2003 when Federer beat Mark Philippoussis to claim his first title.
The good news for us – if not his rivals – is that Federer intends to be back again in 2018. "I still love to play and my wife's totally fine with it," he added, smiling. "She's my No1 supporter. She's amazing. And because I'm playing a little less, I feel like I'm working part-time these days, which is a great feeling."
The tennis gods have been kind to Federer at Wimbledon this year.
Andy Murray hobbled out with a hip problem. Novak Djokovic was given the elbow by an inflamed joint. And Rafael Nadal was sunk by a 34-year-old Luxemburger, Gilles Müller, who suddenly played the best tennis of his career. But on the evidence of this fortnight Federer would have been tough to topple whoever was on the other side of the net.
While this was his 19th grand slam victory, another record, few would bet against more coming his way. For even now, in the autumn of his career, he stands tallest of all. The eternal – and the immovable.