An engineering student in Kolkata, believed to have completed several levels of the "Blue Whale" suicide game and had even carved an image of the animal on his arm with a blade, says he was saved by his college friends, faculty and
counseling
by the West Bengal police.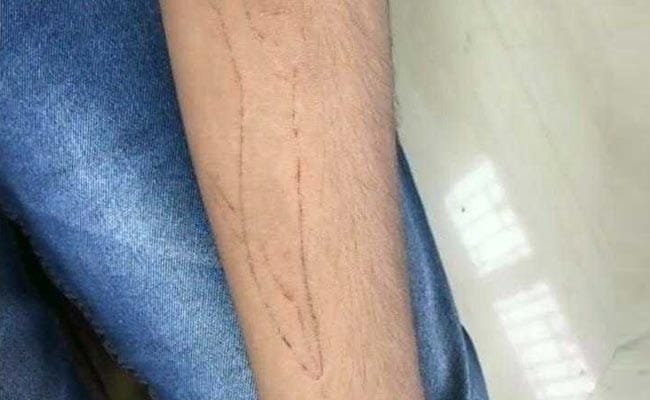 "I have come back," the third year student said on Monday, displaying fading wounds of the Blue Whale carved into his left forearm. He had heard of the online game from a WhatsApp group warning against playing it. He had thought, what's the big deal and started playing early August. He had reached stage eight which needed him to etch the whale diagram on his arm. The next challenge was to cut his lip. But he was yanked away from the brink in time.
The heartening story of survival came on a day a teenager's suicide in Uttar Pradesh was linked to the game.
13-year-old Parth Singh was found hanging in his bedroom
. His father's phone, with the Blue Whale page open, was lying there. His family says the Class 6 student had been playing for the past few days and, told off, he started using his father's phone without telling him.
Last evening, Parth was supposed to attend a friend's birthday party but didn't come out of his room. His father broke open the door to find him hanging.
The Kolkata student says he was lucky. His friends spotted the whale etching and alerted teachers who in turn alerted the registrar Mr Tapas Satapathi. "I had seen some awareness campaigns on social media done by the Criminal Investigation Department or CID of the West Bengal police. So I immediately knew the gravity of the situation. I called the police for help. And the parents."
That was on Wednesday last week. On Friday, the parents came to college and the student was counseled in their presence. From Saturday, a police officer from CID, which has put up video alerts on the deadly game on its Facebook page, joined the counseling over phone and social media.
"I am very grateful for the intervention of my friends, teachers and the CID officer," he said.
"My message to whoever is in this game
is stop
before it is too late. It is not a game...they give you challenges and they take you to places you cannot come back from. They drive you to suicide. You are compelled to..." he said.
"I didn't reach that point."
The CID inspector who intervened is glad the awareness campaign had come in handy. "I did not initially tell the student I was police. I said I was a counselor. He was afraid that if he stopped playing, he might start getting phone calls from people called curators and engage with those who continue to play after the first few stages."
The student was using his phone to play the game and a friend's laptop. He has since removed the sim card.
The
Blue Whale Game
originated in Russia; over 100 deaths across the world have been linked to it.
Last month, a Mumbai schoolboy jumped off a building in what could be India's first 'Blue Whale' case. A Kerala teenager's family also alleged he killed himself.
Several states have warned parents and urged them to keep a close watch on their online activities.