How he copes then could be the making of an even better player than we're seeing now.
The hanging judge was out. He was among us and he was one of us. He was the Doubting Thomas. He was living in the past. He was holding on to 2007. He was holding on to the last 10 years. He was holding on to MS Dhoni.
He was living in the belief that it still wasn't time for Virat Kohli. He was blind to the fact that Kohli had been a far-more-than-able Test captain. His argument was a concoction of warped belief and emotionalism. A belief that stemmed from the inability to accept that Dhoni of the many world championships would soon have to walk into the sunset. And that the first step would be Dhoni stepping down from the limited overs' captaincy.
In an even more bizarre comment, Dhoni recently said that he didn't believe in split captaincy: "Right from the start, when I left Test captainship, I knew split captaincy doesn't work in India, doesn't work in our set-up. I was waiting for the right time. I wanted Virat to ease into the Test format. With so many games, I feel he is right there. With this kind of decision, there is no wrong decision in it. It is just the timing. I feel this is the time."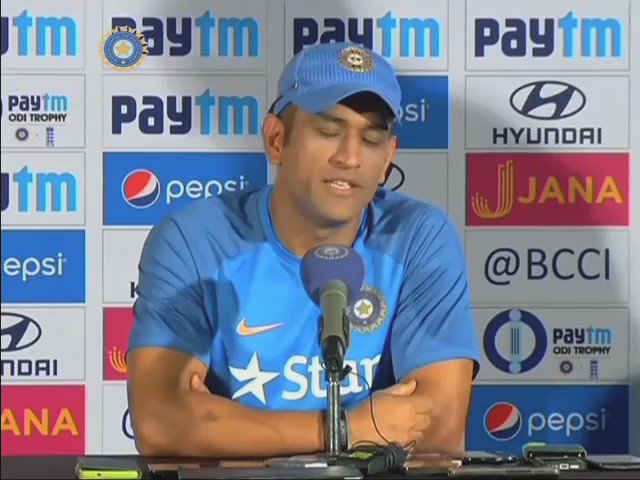 It's taken Dhoni more than two years to realise that split captaincy doesn't work in India. Really? Close to two years after the 2015 World Cup, and two years from the 2019 World Cup, Dhoni has this moment of enlightenment?
If it was so, the realisation, though a tad late, is a welcome one. Virat Kohli's time to captain all formats came a long time ago, ideally, soon after he took over as Test captain. However, just as the BCCI, Indian cricket, its selections, all were stuck in a rut.
The thinking was by and large muddled and not always for the good of the game or its stakeholders, the fans. In spite of that, Kohli made rapid progress – often more as a player than as a captain. His shortcomings as captain have often been overshadowed by his heady success as a player in the last two years.
The 'new era'
Sunday,
15th January, 2017
, could have been different – he was the new ODI captain. It was being heralded in the media as the beginning of a "
new era
" – but how and why? For long, India had been winning because of Virat Kohli the batsman, when he came off, and losing when he didn't – or often, when he wasn't in the playing XI.
When he became captain, what would change? Would he stop batting? Would captaincy affect his batting? What if in pursuit of England's 351, he too had fallen along with the other four, and it had become 63/5 – and India had lost, by a huge margin?
What would the hanging judge have done – would we have rued Dhoni's exit from the captaincy? Would Kohli's captaincy been written off?
As it is, Kohli's captaincy, the bowling, the selection, have all gone largely unnoticed. We're in a space celebrating, yet again, Kohli's batsmanship. And that's the way it should be. However, had he failed on Sunday, or if he fails on Thursday, in the second ODI, where will the discussion take us?
Blaming the captain, selection or bowling? Kohli's true test as captain will come if and when his magnificent form dips to that of his peers. How he copes then could be the making of an even better player than we're seeing now.
For as he himself commented after the drawn Test versus England, this too could be a very important learning in the continuous evolution of Virat Kohli, as a player and a human being.
Those among us who have their eyes open could even learn a thing or two, life's lessons they're called. Right now, of course, we could start by giving up butter chicken and mutton tikka and have only fresh juice.
If nothing else, it could make us feel a lot healthier after staying put for these long Virat innings.