Converting DVD
to movies on Mac was a job for Visual Hub, but Tyles from Techspansion discontinued the application.
The new born King is:
Handbrake
! Mac users were happy to work with Visual Hub for years and many are sorry to see the application go, partly because it could do a lot more then converting dvd's. Yet, Handbrake is a worthy successor when it comes to ripping DVD and the good news is that it works on all major platforms (Mac, Windows, Linux), so everyone can enjoy it. It can select 1 or more chapters to rip and it can convert to a variety of formats, although not as many as Visual Hub could. Handbrake is an open source project and as such limited to freely available codec formats (read: compression methods). However, there is not really a need for most other formats, so Handbrake is a worthy successor to the throne and it is free.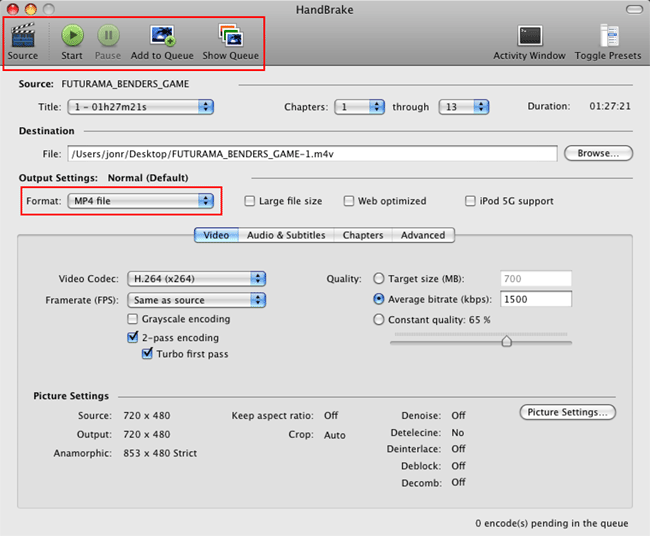 I tested Handbrake, and I must say, I'm really happy with it. No problems, it works fast and easy, even on a MacMini Intel with only 2GB ram. It is certainly very intuitive, with the option to select subtitles. The default format is mp4, which is great, but you can also do a couple of other formats.
List of specifications from the Handbrake:
Supported sources:
- Any DVD-like source: VIDEO_TS folder, DVD image or real DVD (encrypted or unencrypted, but protection methods other than CSS are not supported and must be handled externally with third-party software), and some .VOB and .TS files
- PAL or NTSC
- AC-3, DTS, LPCM or MPEG audio tracks
Outputs:
- File format: MP4, MKV, AVI or OGM
- Video: MPEG-4 or H.264 (1 or 2 passes or constant quantizer/rate encoding)
- Audio: AAC, MP3, Vorbis or AC-3 pass-through (supports encoding of several audio tracks)
Misc features:
- Chapter selection
- Basic subtitle support (burned into the picture)
- Integrated bitrate calculator
- Picture deinterlacing, cropping and scaling
- Grayscale encoding
As you can see, options enough for general use. In other words, this useful app gets a 5/5 star from me!
Why converting a DVD?
Now, why would you want to convert a DVD to a QuickTime or AVI? Copying DVD's to sell illegal copies? Don't think so, there goes a lot of time, effort and money into the creation of movies and documentaries and we should respect that. I know it is unfashionable to say so, but I often take up the challenge when being yet again confronted with the indifference and disrespect towards artists.
I really think that video makers and artists in general have the right to make money with their work. Most of them have it difficult to make ends meet, and it is an issue of respect for the effort that artists make to entertain the general people. At least that is my idea about it and I'm sure that the makers of Handybrake did not create this app to steal artwork.
Here is a post from the Handbrake folks
that shows to a large extend what their motives are.
Instead, ripping dvd to movies is interesting when you want to illustrate an idea or concept in an educational project like a video, Flash or Powerpoint presentation by showing little pieces of a movie or a documentary. And it is invaluable as a tool for art students to play around and experiment with film footage.
Some general rules about the use of copyrighted material:
- For students: At home, as a student, you can actually do what you like with footage as long as it stays at home and you do not organize large gatherings to show off the work. It is a bit arbitrary to establish what an organized gathering is, but let's say you cannot turn your living room into a cinema.
Teachers: Within a closed circle, like a school or University is acceptable to use footage, provided it is an educational project kept within the confinements of the school itself.
- Preferably, you ask permission from the rightful owner of the creation, but if that is not possible, you could risk it. You always need to mention the source in your work.
- Endwork master degree or similar: If you use copyrighted footage in your end work as a student for a master degree or something similar, you do need to ask permission from the author(s) and name the rightful source(s), because your work will be archived for years to come and might turn up later publicly.
- Visual art projects: Using existing footage in visual art projects is tricky business. It depends on the context in which the footage is used. You should inform yourself through proper channels because it is a gray area which can lead to all sorts of problems. On YouTube, you see a lot of videos using footage from other sources and in most cases it is illegal, but there are so many of them that the rightful owners generally don't bother.
- Commercial projects: Legally, you cannot use pieces of movies for commercial projects without written permission, unless you own the rights yourself. You have to obtain the rights by contacting the agency or the creator directly and it usually involves paying a fee.
This is very important: If you omit naming the source, when using copyrighted material, you actually claim that it is your own. In fact, at many universities, you can be thrown out for using a source without naming it, being it text, images or video because it is regarded as dishonorable to refuse credit to the rightful source.
Inform yourself beforehand
Ruling differs per country, therefore check with a specialized lawyer or official body if in doubt. Don't take my word for what is acceptable and what not.
But I do know that if you contact the author directly and it is for educational purposes, they generally grant permission without the payment of royalties. Independent authors often are happily surprised that someone has the courtesy to ask permission and as a result, they can do little else but grant permission as a reward. Don't shoot me if someone refuses, though 🙂
Anyway, make it a habit of asking permission, it will give everybody a good feeling.